Meet Triga - My version of "God's Own Machine" (2014)
Jun 05, 2014
Say hello to my dream desktop or as Scott says - "God's Own Machine". It took a while for me to read, review, decide and buy the parts. Then some more while to wait until I am sure that I have not made any mistakes (being software guy I do make mistakes at times when it comes to hardware stuffs).
The Idea:
I have been researching and reviewing a lot of product and computer parts in last few months (almost 6). My requirement for awesome machine was simple (not that simple though):
It should work, I mean seriously it should work. No cheap parts no compromise.
I should be able survive without catching fire when I start few bunch of Visual studio instance and go crazy with random weird stuffs (which in my mind is awesome stuffs that I do).
I have felt annoyed for a long time by doing everything on my local machine and then in few months the machine looks like some overcrowded (and slow) mall. I needed virtualization for those experiment and doing stuffs so I can keep my host machine clean.
Initial idea - get a branded ready-made machine or workstation from [DELL] (Precision series may be) or some other well known brand. Pay for the specifications and get damage cover.
Then I read few posts (specially from Scott) and I decided to assemble my own machine the things that I want to be in that box.
The Name:
It sounds totally awkward (for those who thinks "they are just machines") but I call my machine "TRIGA". The name has no special meaning, but links to a beautiful memory of mine when I was in The Netherlands for work. I met this "I cannot describe enough in words - Beautiful Girl" on a train while I was travelling to Tulip Garden - Keukenhof in weekends. I had only few minutes of conversation with her (was from russia - somewhere) and I had a moment I archived in my good memory archive (a cute meet). So that's why - TRIGA (psst - do not tell my wife about it).
The Parts:
Processor - Intel 3.5 GHz LGA 1150 4770K i7 Processor - 4th Generation

Why?

It is overclockable
Wanted to go for 4th Generation Intel Processor
4 cores - 8 Threads and 8 MB cache (Intel Smart Cache)
Hyper-Threading and Virtualization Technology (VT-x) with extended page tables (EPT).

I ran few benchmarks and stress (computational tests) using available utilities and it seems to work as I expected. It looks promising numbers in Windows Experience Index tests - 6.9 and above.

Motherboard - Gigabyte GA-Z87X-OC Motherboard

Looks really cool in that black / orange shades.
Support for 4th Generation Intel Core Processors (LGA 1150 socket type).
Over-clockable.
Lots of slots for Graphics Cards (I play games, not saying no).
Durable and gold plated slots and power connectors (saves corrosions).
32 GB of system memory (RAM) support and should be DDR3 DIMM (for the VMs)
HDMI - display support and USB 3.0.
Lots of fan connectors and options.
Dual BIOS (I always screw my BIOS settings, yes I am crazy).
Love the on-board LED state indicator.

This one is the "shut-up and take my money" MOBO. Something about over-clocking - Folks, do not try that if you are not 100% sure of what you are doing. The DUAL BIOS was a life saviour for me on this one when I started fiddling around for over-clocking my processor and other component. I did it after a lot of reading and understanding the concept and the hardware I have in hand. When in doubt - Don't do it.




Memory - Corsair Vengeance DDR3 16 GB (2 x 8 GB) PC RAM (CMZ16GX3M2A1600C10R)

This one does not need any explanation. I needed DDR3-1600/PC3-12800 (compatible with my MOBO) and 16 GB (for now soon will be 32 GB). Corsair is the brand you can rely on when it comes to memory modules and they look cool (with heat sink inside).

Power Supply Unit (PSU) - [Cooler Master Vanguard 1000 Watts PSU]

Fully modular cable design (less of cluttering in the machine).
1000 Watts.
Nice black and reliable cooling.

If you are making your machine - ALWAYS REMEMBER TO GIVE YOUR TOP MOST ATTENTION TO PSU YOU CHOOSE.

This is the part that will provide those immense power to your awesome hardware and yes 1000 Watts does not mean it will consume that much all the time. Its the capacity of this PSU. A good PSU will make your parts survive longer.

Graphic Card - ZOTAC NVIDIA GeForce GTX 650 Ti Boost 2 GB GDDR5 Graphics Card

Not the best choice (may be) but not a poor choice at all. This one is doing great. The on-board fans and the open structure is what I needed.




Hard Drive - SAMSUNG 830 Series 2.5-Inch 256GB SATA III MLC Internal Solid State Drive (SSD) Desktop Upgrade Kit MZ-7PC256D/AM

I had bought this a year back and using it till now on my old crappy laptop to make it awesome. If you really want to see performance and speed in terms of I/O - SSD it is. System boots in 10 sec max for me. Copy and moving files - kids job. I cannot even complete a sip of my coffee (while waiting) if I have to work on SSD. SSD on the run and I feel like Alice in wonderland. Go for it, you won't regret a bit of it.

Case / Cabinet - Cooler Master CM Chassis Trooper Standard Version

Buy all the goodies and you need a good house for them to stay. Full tower was too much so I opted for mid-tower. This one has ideal in and out air flow facilities and very easy to wipe out your dust - top and down filter net plate.

Very spacy.
Lot of options for cooling.
Best fit and still enough space left for the MOBO I am going for.
Looks like Batman's machine :D
Handy to carry, very sturdy and comfortable handle to cary.
Controls to adjust fan speed.





CPU Cooling - [Hydro Series H110 280mm Extreme Performance Liquid CPU Cooler]

The CPU needs to be taken care of. This was not on the list, but in few days with default Intel CPU fan I realized that my CPU was heating up slowly (not a lot, but a bit more than I expectation). I need to keep this guy cool. Rest of the component were doing great in terms of temperature. Once installed (installation was super easy and still space left in case) the CPU is happy and cool, even in tough computational conditions and over-clocking modes.
I am not an expert (fast enough) on assembling a machine though I used to do it everyday (on my side kick job) long, long back. It took me a night to assemble all these parts and to get first grip on the MOBO settings.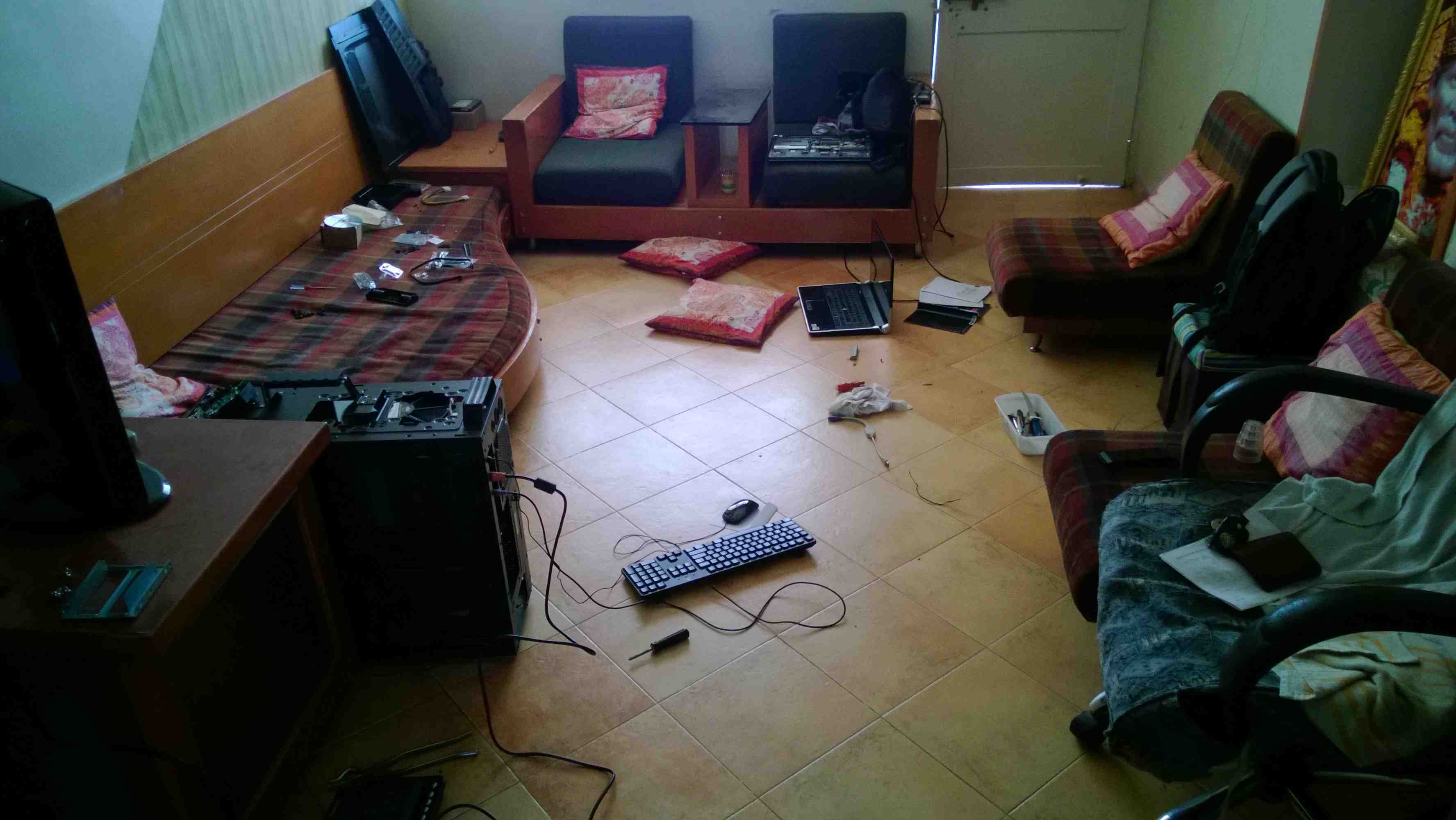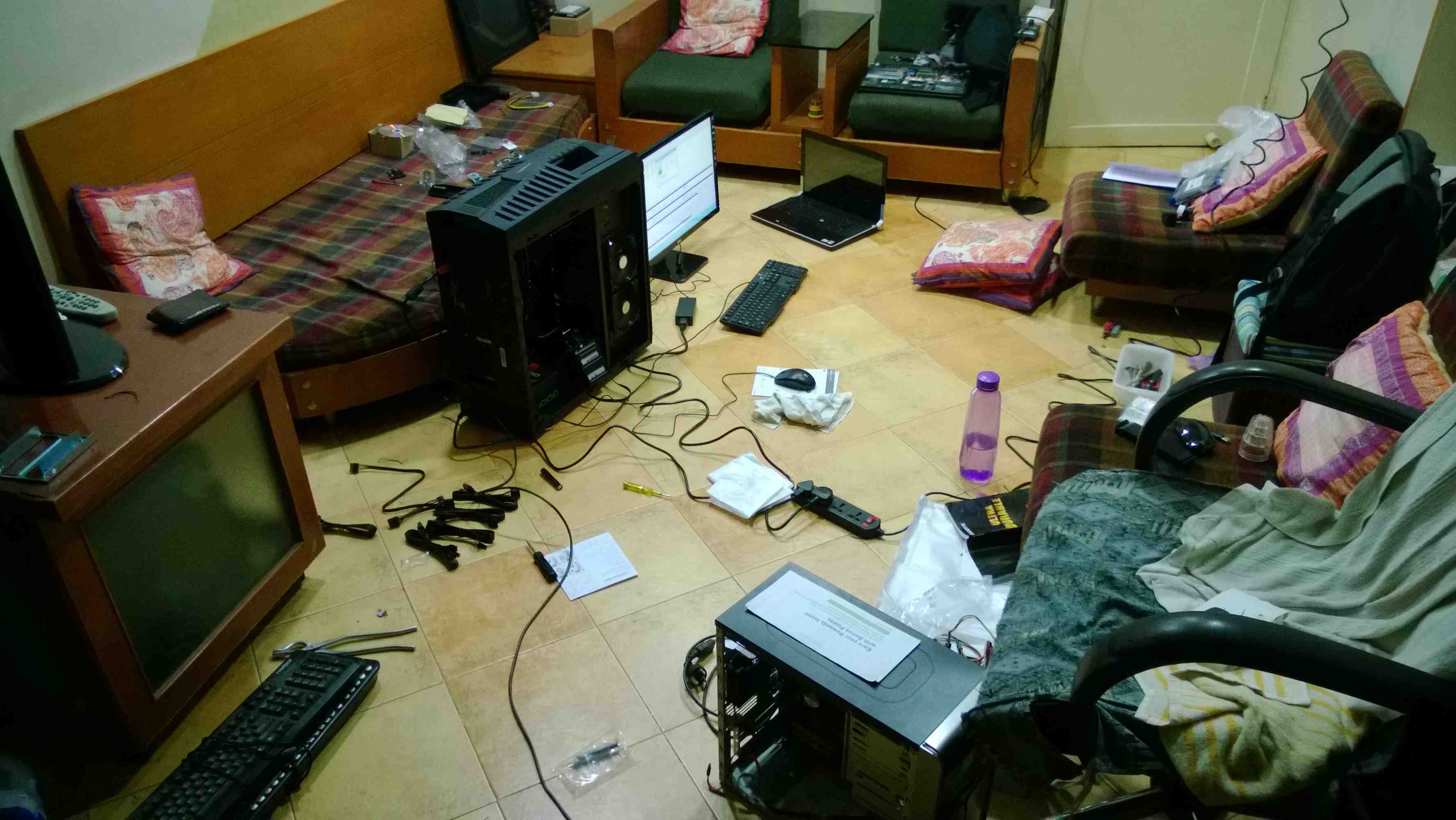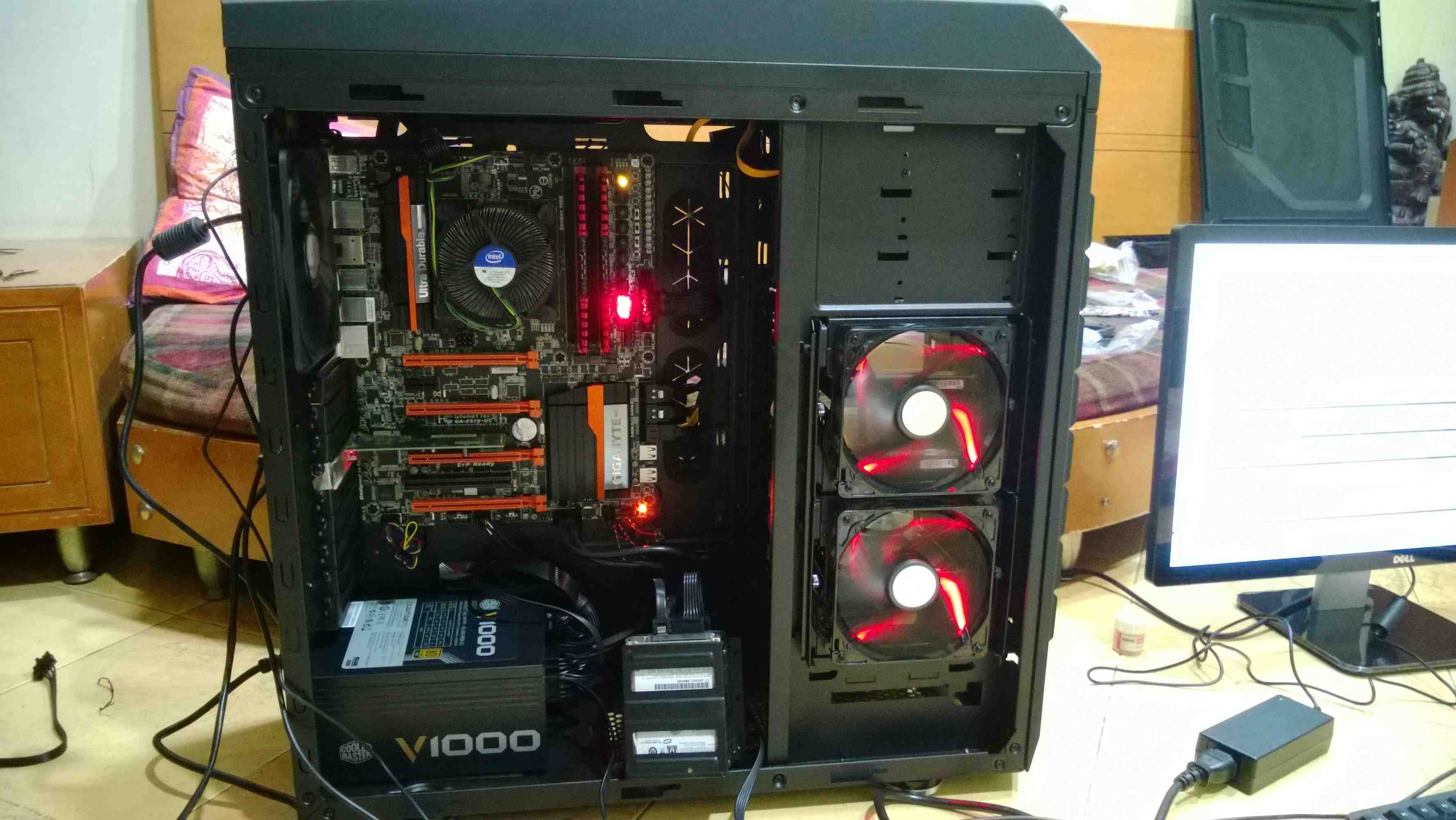 I am using it since then and never had to look back. Not a single hiccup, issue, heating or anything similar. I do my work, learning, research, reviews on VM - and now with Vagrant. Play cool games - recent one Saint Row IV and watch movies and Sitcoms in Hi-Res.